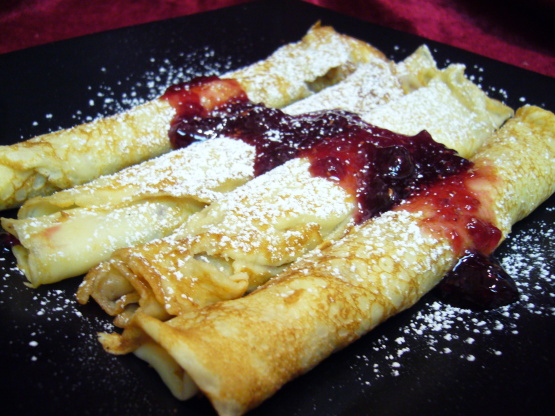 SWEDISH PANCAKES
IHOP Restaurant Copycat Recipe
1 1/2 cups sifted flour
1 tablespoon sugar
1/2 teaspoon salt
3 eggs, beaten until very light
1 cup milk, divided use
1/2 cup cream (
or milk
)
2 tablespoons butter, melted
2 cups lingonberry sauce (
You can use red currant jelly
)
confectioner's sugar
Then sift together the flour, sugar and salt; set aside.
Combine the eggs and half the milk. Fold in flour mixture then add remaining milk, cream and butter. If consistency is too thick, add more milk.
Using a hot griddle, ladle the batter onto the griddle creating a 5 to 6 inch diameter. These pancakes are thin and will only need a minute or two on each side.
Place 2 tablespoons of lingonberry (
Swedish cranberries
) sauce on center of pancake and roll up like jelly roll. Serve sprinkled with confectioner's sugar.