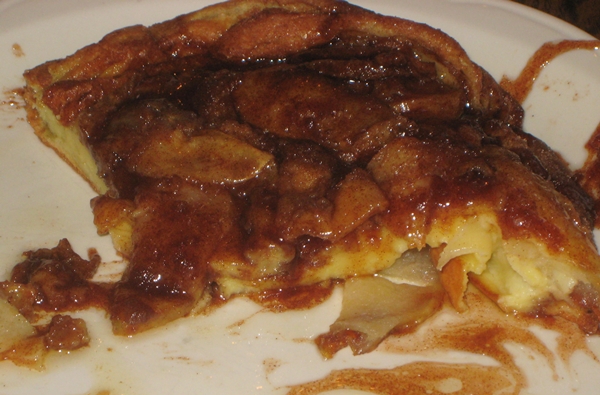 APPLE PECAN PANCAKES
Restaurant Recipe
Makes about 18 Pancakes
2 cups all purpose flour
1 cup sugar
2 teaspoons baking powder
1 teaspoon baking soda
1 teaspoon ground cinnamon
1/2 teaspoon salt
1/2 teaspoon ground ginger
1/2 teaspoon ground mace
1/2 teaspoon ground cloves
2 eggs
1 3/4 cups buttermilk
3 tablespoons canola oil
1 3/4 cups shredded peeled apples
1/2 cup chopped pecans
In a large bowl, mix the first nine ingredients. In another bowl, whisk the eggs, buttermilk and oil until blended. Add to flour mixture; stir just until moistened. Stir in apples and pecans.
Lightly grease a griddle and heat over medium low heat. Pour batter by 1/4 cupfuls onto griddle. Cook until bubbles on top begin to pop and bottoms are golden brown. Turn; cook until second side is golden brown.
Notes: You may also make plain pancakes from a mix and then top them with apples and pecans which have been seasoned with the apple pie spices and sauteed in butter.